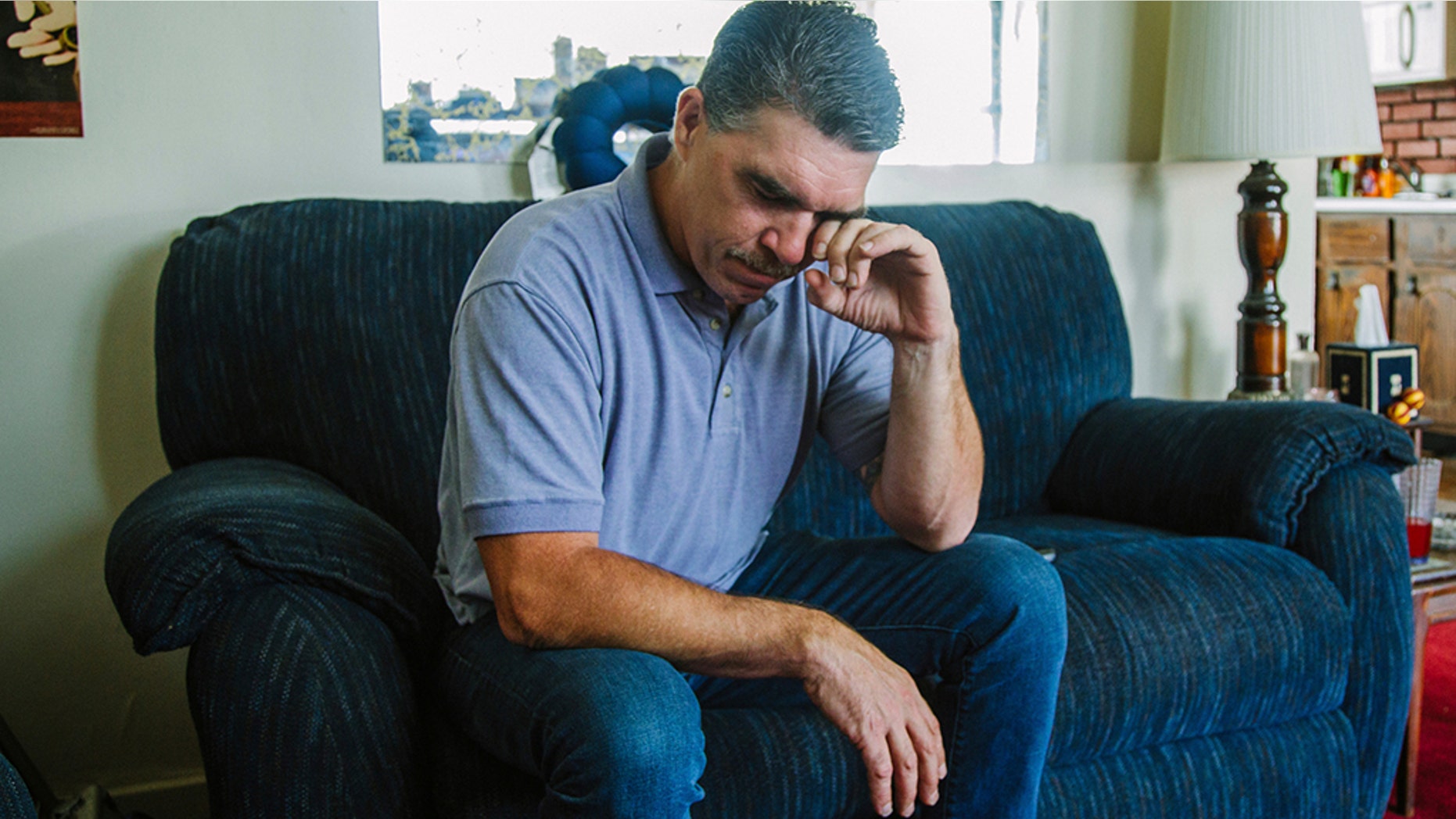 Robert Mizic, 47, watching a news conference on the grand jury report investigating sexual abuse within the Catholic Church in Pennsylvania at his home on Tuesday. Mizic says he was abused by his parish priest at a Catholic Church in suburban Philadelphia 35 years ago. (Andrew Rush/Post-Gazette via AP)
Robert Mizic, 47, said his life was taken away as an altar boy 35 years ago, when he was abused by his parish priest at a Catholic Church in suburban Philadelphia.
He is one of the many accusers in a sweeping scandal encircling the Catholic Church in Pennsylvania.
Hundreds of priests were said to have molested more than 1,000 children — and possibly many more — since the 1940s, and senior church officials, including a man who is now the archbishop of Washington, D.C., allegedly covered up the abuse, according to a grand jury report released Tuesday.
WARNING: GRAPHIC ALLEGATIONS BELOW
The "real number" of abused children might be in the thousands since some secret church records were lost, and victims were afraid to come forward, the grand jury said.
"We are sick over all the crimes that will go unpunished and uncompensated," the grand jury said.
The grand jury accused Cardinal Donald Wuerl, who leads the Washington archdiocese, of helping to protect abusive priests when he was Pittsburgh's bishop. Wuerl responded in part: "I sincerely hope that a just assessment of my actions, past and present, and my continuing commitment to the protection of children will dispel any notions otherwise made by this report."
Varied Forms of Abuse
Most of the Pennsylvania victims were boys, but girls were abused, too, the report said.
The abuse ranged from groping and masturbation to anal, oral and vaginal rape. One boy was forced to say confession to the priest who sexually abused him. A 9-year-old boy was forced to perform oral sex and then had his mouth washed out with holy water. Another boy was made to pose naked as if being crucified and then was photographed by a group of priests who Attorney General Josh Shapiro said produced and shared child pornography on church grounds.
Mizic called himself a survivor. "It's a horrible way of living. I had my puberty stolen from me, my life stolen," he told KDKA-TV.
The report put the number of abusive clergy at more than 300. In nearly all of the cases, the statute of limitations has run out, meaning that criminal charges cannot be filed. More than 100 of the priests are dead, and many others are retired or have been dismissed from the priesthood or put on leave.
"Priests were raping little boys and girls, and the men of God who were responsible for them not only did nothing. They hid it all," Shapiro said at a news conference in Harrisburg.
At the conference, a film was played featuring the accusers. "Who would have believed me?" 83-year-old Robert Corby said in the film, as Philly.com reported. "A priest, in 1948 or '47, would abuse you?"
Church Leaders Allegedly Took Steps to Cover Up the Abuse
Shapiro said the investigation confirmed a "systematic cover-up by senior church officials in Pennsylvania and at the Vatican." The report itself provided scant detail about the Vatican's role beyond describing a series of confidential reports that bishops made to the Vatican about abusive priests.
The alleged conspiracy of silence extended beyond church grounds. The grand jury said it found cases in which police or prosecutors learned of clergy sex abuse allegations but did not investigate out of deference to church officials.
Mizic added, "That's the true travesty to know that they knew, and they knew and moved these priests to endanger other children is deplorable."
The grand jury concluded that a succession of Catholic bishops and other diocesan leaders tried to shield the church from bad publicity and financial liability. They failed to report accused clergy to police and sent abusive priests to so-called "treatment facilities," which "laundered" the priests and "permitted hundreds of known offenders to return to ministry," the report said.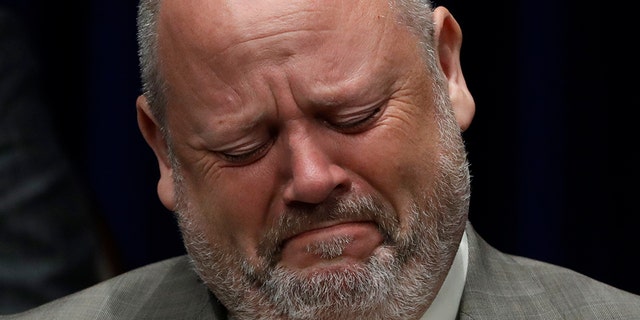 Former priest James Faluszczak, who says he was molested by a priest as a teenager, reacts as Pennsylvania Attorney General Josh Shapiro speaks during a news conference at the Pennsylvania Capitol in Harrisburg, Pa., Tuesday, Aug. 14, 2018. A Pennsylvania grand jury says its investigation of clergy sexual abuse identified more than 1,000 child victims. The grand jury report released Tuesday says that number comes from records in six Roman Catholic dioceses. (AP Photo/Matt Rourke)
"This is the murder of a soul," James Faluszczak, a former priest who said he was abused by a priest as a child in the Diocese of Erie, told Philly.com. "There is no statute of limitations on the crime of murder."
The grand jury probe was the most extensive investigation of Catholic clergy abuse by any state. Its findings echoed many earlier church investigations around the country, describing widespread sexual abuse and church officials' concealment of it. U.S. bishops have acknowledged that more than 17,000 people nationwide have reported being molested by priests and others in the church.
Accusations in Dioceses that Minister to More Than Half the State's 3.2 Million Catholics
The Pennsylvania grand jury, convened by the state attorney general's office in 2016, heard from dozens of witnesses and reviewed more than a half-million pages of internal documents from the Allentown, Erie, Greensburg, Harrisburg, Pittsburgh and Scranton dioceses.
The grand jury scrutinized abuse allegations in dioceses that minister to more than half the state's 3.2 million Catholics.
The Pittsburgh diocese said a few priests are still in ministry because the diocese determined allegations against them were unsubstantiated.
Tim Lennon, the president of the Survivors Network of those Abused by Priests, urged Pennsylvania lawmakers to lift civil and criminal statutes of limitations for child sex crimes, and to provide victims who no longer meet the age requirements in state law with a new window to file civil lawsuits.
Some current and former clergy named in the report went to court to prevent its release, arguing it violated their constitutional rights. The state Supreme Court said the public had a right to see it, but ruled the names of priests and others who objected to the findings would be blacked out pending a September hearing on their claims.
Twenty of the grand jurors said Tuesday they objected to "any attempts to censor, alter, redact or amend" the report.
Several dioceses decided to strip the accused of their anonymity and released the names of clergy members who were accused of sexual misconduct.
Authorities evaluated each suspect and were able to charge just two, including a priest who has since pleaded guilty. Shapiro said the investigation is ongoing.
State Attorney General Calls the Cover-Up 'Child Sexual Abuse'
Church officials "routinely and purposefully described the abuse as horseplay and wrestling" and simply "inappropriate conduct," Shapiro said.
"It was none of those things. It was child sexual abuse, including rape," he said.
Former Pittsburgh Bishop Responds
The grand jury accused Cardinal Donald Wuerl, who leads the Washington archdiocese, of helping to protect abusive priests when he was Pittsburgh's bishop. Wuerl, who led the Pittsburgh diocese from 1988 to 2006, disputed the allegations.
"While I understand this report may be critical of some of my actions, I believe the report confirms that I acted with diligence, with concern for the victims and to prevent future acts of abuse," he said in a statement.
The Associated Press contributed to this report.