Jim Stone, Freelance Journalist
http://82.221.129.208/.zu1.html
Supposedly Trump just released 13,000 unredacted Kennedy files
Of interest so far was one that documented Lee Harvey Oswald was interrogated for 11 hours, yet there are no recordings of it and not even any transcripts. Obviously they did not get what they wanted out of him, and he was quickly killed.
When I tried to click in, it played the "no cipher overlay" game and blocked me out. B.S.!!!!! But you can try.
JFK Assassination Records – 2017 Additional Documents Release
National Archives
November 9, 2017
https://www.archives.gov/research/jfk/2017-release
Washington, DC
In the fourth public release this year, the National Archives today posted 13,213 records subject to the President John F. Kennedy Assassination Records Collection Act of 1992 (JFK Act).
The majority of the documents released today were released previously in redacted form. The versions released today were prepared by agencies prior to October 26, 2017, and were posted to make the latest versions of the documents available as expeditiously as possible. Released records are available for download.
On October 26, 2017, President Donald J. Trump directed agencies to re-review each and every one of their redactions over the next 180 days. As part of that review process, agency heads were directed to be extremely circumspect in recommending any further postponement of information in the records. Agency heads must report to the Archivist of the United States by March 12, 2018, any specific information within particular records that meets the standard for continued postponement under section 5(g)(2)(D) of the JFK Act. The Archivist must then recommend to the President by March 26, 2018, whether this information warrants continued withholding after April 26, 2018. The records included in this public release have not yet been re-reviewed by the agencies as part of that process and have not been reviewed by the National Archives.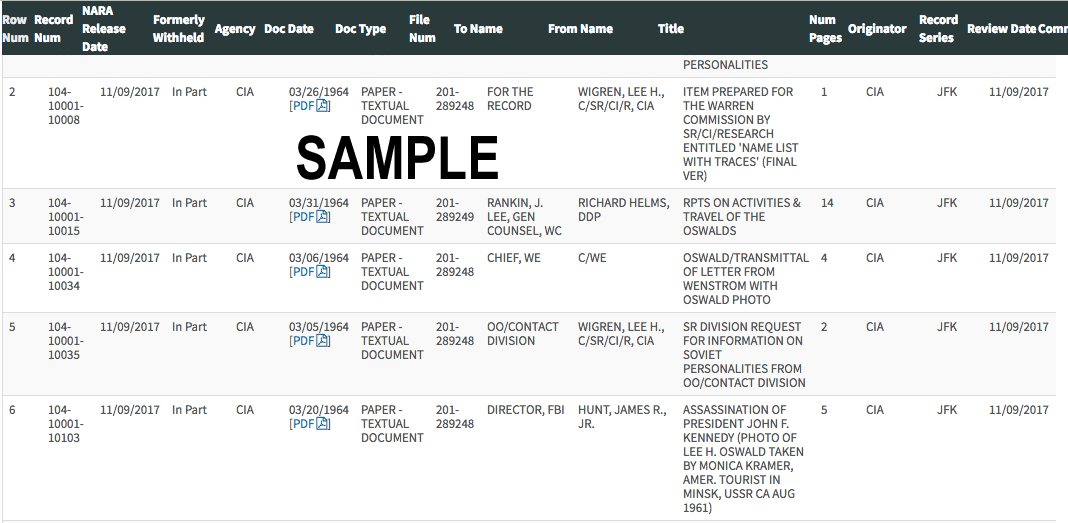 To view or download a released file, follow the link in the ""Doc Date" column. You can also download the full spreadsheet with metadata about all the documents. The files are sorted by NARA Release Date, with the most recent files appearing first. The previous withholding status (i.e., formerly withheld in part or formerly withheld in full) is identified in the "Formerly Withheld Status" column.
Bulk Download of PDF and WAV files
You can access individual files by browsing the webpage above and selecting the link in the "Doc Date" column. You may also download the Excel spreadsheet above, which includes links to all of the files. If you need copies of all PDF and WAV files, you can request a compressed bulk download by emailing bulkdownload AT @nara.gov with "JFK Bulk Download" in the subject line.