'I kind of used some of my notoriety to try to do something pretty ambitious, and it worked,' he said in a taped message to the International UFO congress
Andrew Griffin @_andrew_griffin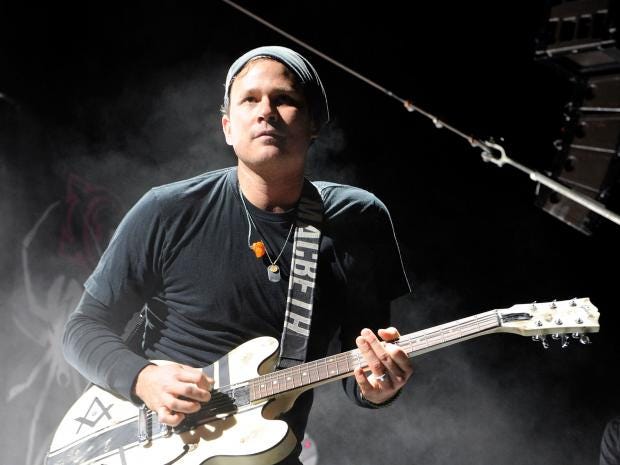 Tom Delonge could be about to expose an alien conspiracy, he has suggested.
Receiving an award for being "Researcher Of The Year" from the International UFO Congress, the Blink-182 co-founder suggested that he is about to make an announcement that could be a leap forward in the search for aliens.
Mr Delonge's search for UFOs has been ongoing since he left Blink-182 under disputed circumstances, that may be related to his work, two years ago. The mystery project has been sometimes mocked – but when WikiLeaks revealed hacked emails that suggested he had been consulting with some of the most important people in the US government, some changed their mind about his project.

The singer has previously suggested that he has met aliens near Area 51, and that he is being hunted by authorities because of the work he has been doing in investigating extraterrestrials and an apparent cover up. He has said before that he has had his phone tapped, for instance, because he has sources in the US government and has spoken to people who knew Nazi scientists.
He made reference to that work in the video, during which he also teased a revelation that would be made in the next 60 days. The mainstream press could miss the full significance of that revelation, he said, but he implored those watching the video who are a part of the UFO-hunting community to take "read between the lines" of what is announced.
There's a lot that I can't say, but there's some that I can," he said in the speech. And I'm so appreciative that I've been acknowledged for this stuff, but I'm not done.
"I'm just like you guys. I spent 20 years up all night, reading about Roswell, Dulce, Serpo, Churchill, the crashes here, Nazis building craft there, Antarctica, what's on Mars, what's on the back of the moon, anomalous structures. I mean, I've done it all. I know it all. I read all the same authors as you guys, hundreds of books. I look at all the same sites. I listen to all the Coast To Coast stuff that you guys do. I'm the same.
"But I kind of used some of my notoriety to try to do something pretty ambitious, and it worked," he said, apparently referencing the upcoming announcement.
"I came out and told you guys about a book I was writing called Sekret Machines, and I said a bunch of stuff, that I was working with some people. Well, I think a lot of people doubted it, and they thought it was crazy that this musician would have this kind of access. And then the WikiLeaks thing happened, and you guys saw that I'm into some serious shit, and I'm making really good progress."
Those WikiLeaks emails brought much of Mr Delonge's work to the fore, and showed that he had consulted with Hillary Clinton campaign manager John Podesta on his work. Mr Delonge said in the messages that he had been talking to high-ranking officials in the US government.
http://www.independent.co.uk/news/science/tom-delonge-alien-ufo-blink-182-award-john-podesta-wikileaks-congress-a7607646.html