Received via email from Mr. Ed…….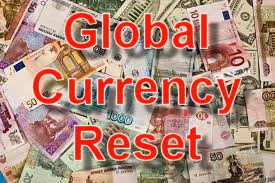 Posted By: Mr.Ed 
The Global Financial System Reset is Happening Now
by Clif High
As we are all too clearly aware, the financial system of the planet is flawed. The flaw has reached the point of ongoing failure. For years now, the creeping corrosion has led the mass consciousness into anticipation of what has come to be termed 'the global reset'. Those who considered the idea of a global financial system reset have speculated that we would be seeing a 'New Brenton Woods', and likely subsequent announcement by the G7 at some theatrically appropriate setting.
It was not destined to happen that way.
In fact, the global financial system reset is happening now, started in earnest in January of this year, and is picking up pace. There will be no G7 announcement that is meaningful. By the time of any formal proclamation by the global political figureheads, the reset will be nearly global, and an emergent reality. Indeed, by the time that the G7 figureheads are even made aware of the reset, it will be complete.
We are doing it this time.
We the people.
Not the central governments thinking themselves to be authorities.
This global financial reset is occurring during, and as part of the rise of global populism.
As an expression of that populism, control of money has been taken away from those who have proven themselves flawed in their thinking and character.
It's not Nesara.
It's not giant hidden caches of gold.
It's happening right now, as you are reading these words!
No government can control it. No CFR can manipulate it. No fake news can spin it.
No Illuminati mind fuck can hide it.
The global financial reset is happening now.
It's here!
They, TPTB, the 'ruling elite' have reason to fear. Their world crumbles beneath their feet as ours rises.
They, TPTB have reason to fear.
Antarctica is next!