Just when we thought that the Cabal players were going to shut the hell up, they kept the incessant rumors alive among themselves, creating even more disorder and chaos between them.
Related: The Asian Insider: Why Was Neil Keenan Elected Amanah?

I'm sitting here relaxing while taking in what the G20 "accomplished", which is NOTHING, and on the other hand, watching to see what their own personal business may possibly accomplish, which is still yet to be determined.
There is no question they have a newbie amongst themselves, Crown Prince Mohammed bin Salman of Saudi Arabia, as evidenced by the fact he was standing right beside President Trump while President Putin was having a good laugh at the entire matter.
What seems to be agreed upon among themselves is that they must create ever more worldwide chaos in order to stay alive.
Doesn't the NWO imply that there is "order out of chaos"?
It now appears that the person hired to do just such a thing is Prime Minister Abe of Japan.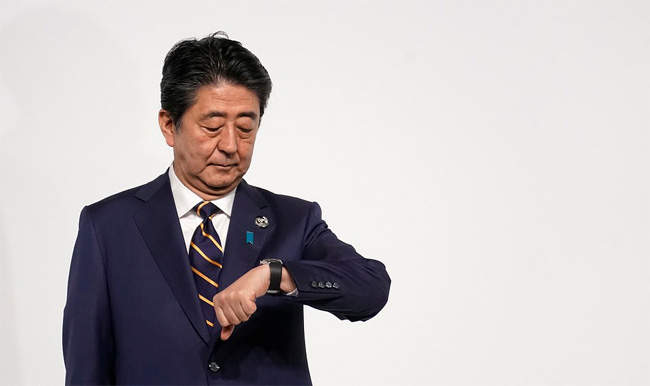 According to sources familiar with Benjamin Fulford, Japanese Prime Minister Abe reached out to fellow members of the Cabal state players soon after completion of the G20 – which was just window dressing for the main event:
This was to steal the Global Accounts.
Shinzo Abe apparently advised them that, although they took a pretty good hit after the latest post on NeilKeenan.com condemning the Cabal / NWO, especially with the exposure reaching President Trump on his visit to South Korea; that there would be nothing further like this in the near future.
Abe reassured his colluding-cronies that Neil Keenan had no further information to provide the public. PM Abe boldly stated, "Keenan no longer has any holds over any of us."
Contrary to Abe's "fantasy wish list", Neil has plenty to release yet – which not only further exposures Abe, but also shines the light on many of the servants Abe sent forward representing him to South Korea, in his blatant and nefarious attempts to steal the Korean Bunker Assets.
Furthermore, Neil has it in his wherewithal to expose what very recently took place in certain hotel rooms in South Korea.
If Abe had kept quiet, rather than attempting to pump himself up in front of his cohorts, then this most likely would never have been exposed.
At the same time on Thursday, June 20, 2019, while the G20 was taking place, another crafty scene unfolded in the Toyokobi Hotel in Dongdaemun, Seoul, Korea at 4pm – as six thieves gathered at this hotel.
Mr. Kojima, a 96-year-old Japanese, Two Taiwanese; Mrs. Chen and Mr. Wu, one City Bank official from Hong Kong, (the Far East Asia General Manager), and two other Koreans.
They gathered to stealthily purchase Japanese Yen and Gold from the South Korean bunkers; which were all criminal acts in accordance with Korean Law.
Furthermore, in their attempts to illegally purchase the Yen and Gold, they deliberately lied to the Korean Bunker Officials in order to actually succeed.
They claimed the following:
1. That they had received the FED'S POA along with PRESIDENT TRUMP'S approval.
2. That the Japanese Yen denomination is expected to be received from the Ministry of Finance when it is submitted to the Japanese Ministry of Finance.
3. That the Taiwanese claim they can procure safety for this transaction by moving it to the FED.
4. That the Dollar and Yen should be dealt with now, seeing they are soon going to lose value as planned.
5. They requested 20,000 MT of Gold as well.
6. They claim the CIA will assist them with the safety and transfer of the Assets which will then enable them to trade safely.
7. That everyone involved in this transaction will be issued a US Green Card.
They also presented 10 copies of the 100,000,000 KRW checks issued by Nonghyup Bank in South Korea to the Koreans. They possessed more than 150 checks.
Also, they are brazenly requested original samples of Bunker Assets…
PM Abe, Hear this clearly for once and for all: You have no more secrets as they relate to the bunker Assets!
I have flies on every wall watching every move made by yourself and your fellow greedy thieves.
This is not the first time you have attempted to steal the Assets. You even mobilized the Japanese military for the first time since WWII a few years back when Japan planned on utilizing its military to steal the Indonesian Assets.
Related: History & Events Timeline:
"7.27 Keenan Exposes Plot For Japan to Invade Indonesia in an Attempt to Steal Indonesian Gold
2014 – (August) The Japanese military mobilizes for the first time since WW2, in an attempt to invade and steal the Indonesian Gold; only to be derailed by Keenan who publicly exposed the planned attack.
Keenan exposes the plot of Colombian drug dollars being sent by the Clinton Arkansas Foundation directly to Indonesian globalists and politicians in their attempt to create panic and chaos in Indonesia and change governments.
The plan was to assassinate the Indonesian Vice President.
The Clinton Gang had flown in on their private jets, the Japanese Emperor's sister had also flown in on her jet with her Indonesian husband, and money transfers had taken place through Bill Clinton's Arkansas Foundation – directly to a political party.
Said funds were illegal, confiscated Colombian drug funds which somehow found their way from the US Drug Enforcement Agency coffers through the Arkansas Foundation into Indonesia with the main objective being to steal what does not belong to either the Clintons or the Japanese Emperor's sister. The assets belong to the depositors.
We advised long ago that this was the plan, and of course that the Japanese Military is on standby. Should they not be able to purchase the gold, the West and their allies will attempt to take the assets one way or another."

PLEASE BE ADVISED, ONE AND ALL: WE ARE WATCHING YOU AND WILL FEEL NO REMORSE IN ACQUIRING CRIMINAL INDICTMENTS AGAINST EACH AND EVERY ONE OF YOU.
SO DO NOT BELIEVE YOU ARE SAFE WHEREVER IT IS YOU GO WHILE REPRESENTING THE CABAL, SEEING WE ARE CLOSELY WATCHING YOU AS THE PICTURES ABOVE CLEARLY DEMONSTRATE!
DO NOT BE BAITED ANY FURTHER AND DO NOT GET TRAPPED – AS YOU ARE HEREBY NOTIFIED OF YOUR EXPOSURE!
Neil F. Keenan – The Amanah & Group K

Copyright © 2019, GROUP K, Ltd.