Goedemorgen trouwe bezoekers,
Het is tijd om de ogen niet meer te sluiten en het schapen gedrag Good by te zeggen, het is tijd om je recht op te eisen en je licht te verspreiden, maar het is geheel aan jou wat je hiermee doet.
Wil je met de meute mee lopen of kies je je eigen weg hierin, ik weet het, het is het oude bekende los laten en het nieuwe omarmen, iets totaal onbekends omarmen kan voor sommigen/ de meeste best eng zijn.
Ga op onderzoek uit ge naar je gevoel en kijk wat het je aangeeft , kijk wat voor jou de werkelijkheid is voor ieder is dat anders.
Ik wens jullie en fijne ontdekkingsreis, have fun.
My the force be with you, my friends.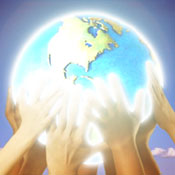 https://www.youtube.com/watch?t=35&v=y1_VBVKihuo
Sheldan Nidle – July 21, 2015
7 Ik, 0 Vayeb, 11 Ik
Dratzo! The world is beginning to "crack" into two major parts! The dark cabal is furiously as well as unsuccessfully, working to maintain its millennia-long advantages. These traditions are straining under the forces of the Light's broad legal attack. There are as well limitations being forced upon the dark's fraudulent worldwide banking networks. Almost weekly, the dark attempts to create a situation that can eventually lead to war. These strategies are as well failing. In fact, a pattern of gradual collapse is now the norm for this cabal and its many minions. Meanwhile, our earthly allies are jointly discussing how best to finish off this former group of global power brokers. A new monetary system awaits the time for its formal declaration. This proclamation is likewise waiting for the final grand push, which is becoming a sure fait accompli for the Light. What is presently missing is the addition of the governmental portion of this growing grand alliance. In many major governments, those in charge are currently arranging for the needed redirection of governance that is to restore the rights of their people and permit a series of major arrests to happen.
The stage is being set for a true quiet revolution, which is to allow your world to return to a state of peace and unheard of cooperation. The dark shudders daily at the degree of progress that our earthly allies are steadily making. This story is still mostly unheard by you as it is surrounded by a vast cloud of dark misinformation. The idea is to confuse the masses by maintaining through lies that nothing has really changed. We deeply wish to rise above this set of "smoke and mirrors". We repeatedly ask our earthly allies to disclose at least in part what is truly happening. Their reply is that this great disinformation helps them by making the cabal believe that its odd strategy is somehow working. It allows them as well to move forward in their unique surreptitious manner and at the right time to spring a new reality on the dark cabal's leadership. We feel instead that a more up-front campaign can work as well, as it can keep you somewhat "in the loop." The earthly Light forces continue to stay adamant that it is basically a self-defeating strategy due to the nature of how the cabal operates.
As these strategies move forward, we can see how the Light intends to push the dark from power. To the dark cabal, wealth and power are everything. To them, their ability to be immune from the laws, which govern everyone else is a sign of just how important they seem to be. At work, the Light is slowly surrounding the dark with alternatives that promise to be overwhelming to them. This process, they mutually cite is how this once powerful enemy can be conquered. The dark, in turn, continues to depend on strategies that right now are mostly not working. This is because the Anunnaki are no longer in the picture. In fact, these former overlords are advising the earthly allies on how best to defeat their former charges. Hence, it is expected that some time in the next months this strategy of the Light is to yield the expected results. The fall of the dark cabal is in reality only the beginning. Our landing is to come only after new governance and a new financial system are fully in place. Before then a number of events are to happen. These are to set the stage for your meeting with your mentors!
All of these amazing events were a part of a prehistory that was put into motion by the Anunnaki. The Anunnaki had agreed with Heaven not to make any further modifications to what the Atlanteans had done to you. Yet, the Anunnaki dearly wished at the proper time to change you drastically into dumbed down human robots. This robot was to be their slaves and allow the Anunnaki to move into the inner circles of the evil Anchara continuum. This plan meant that first the dark had to make your ancestors completely compliant to their every command. The result was the three golden ages. This process was to fail and after the great flood, you were deposited across this globe. The dark overlords knew that soon Heaven was to revisit this realm and free you from the confinements imposed by the overlords and their minions. Our past monitoring of this solar system and especially, Gaia constantly revisited this process. In these visits, we encountered the Anunnaki and reiterated the numerous decrees of Heaven cited to us long ago. These told of your liberation and return to full consciousness.
Blessings! We are your Ascended Masters! This world is being prepared for a most blessed event! Long ago, Heaven permitted a dark overlord to rule over this land provided that a certain number of special rules were carefully followed. If the Anunnaki greatly veered from these agreements, a perilous situation was to be swept away like so much unclean water. The Anunnaki followed these divine edicts and were able to dominate humanity for nearly 13 millennia. The treaty of Anchara ended this rule and brought peace to this galaxy. We are the ones who carefully watched these scalawags and faithfully reported any small breaches committed by them. Now we are in a most sacred time, which is to allow each of you to at last reach a reality that is to be filled with peace, freedom and prosperity. It is to be a time when we can freely walk among you. Even now, it is much easier to help you than before!
The rising energy of consciousness forms a reality in which your concentrated focus can truly achieve miracles. Every reality has energy, which is normally quite weak. Use your added ability to focus as a tool to accomplish goals. The increased amounts of spiritual force can over a short period of time permit you success. To do this, abandon all negativity and frustration. Ever keep in mind that each such exercise requires not only focus but as well a great deal of inner projected positivity. Grow this asset inside you by providing a calm and helpful energy. This is to be the foundation for what you intend to do. Once you feel positive and spiritually strong, begin to take a time per day in which to project this energy. As the details of your positive projections grow, you can start to see how these visualizations are to permit you to alter your reality. Then like a snap of lightning you are to succeed!
You live, blessed Ones, in an age that is at the very pregnant point of switching from evil to Light. Numerous events are coming to fruition. These events are to quickly change how you look at this still limited reality. The sacred point is that together we are ever expanding and thus allowing you to succeed. Take advantage of this and use your own positive energies to accelerate this change. Become even more aware of the exciting possibilities and join in by adopting your own version of these visualizations in order to move this realm into a new era of Love and Light! Together, we have the ability to greatly strengthen the actions that our earthly Light forces are taking to provide the freedom, peace and prosperity that you so righteously deserve. We intend to daily open up the means to aid you in this most blessed series of events. Together, dear Ones, we can be victorious!
Today, we continued giving you messages that outline what is happening now! Everywhere on this sacred orb, individuals have come together to remove the power of the dark and push them to the sidelines. There is still much to do. Nevertheless, the time of freedom and victory is very, very close! Know, dear Ones, that the countless Supply and never-ending Prosperity of Heaven are indeed yours! So Be It! Selamat Gajun! Selamat Ja! (Sirian for Be One! and Be in Joy!)
Website: Planetary Activation Organization
https://www.youtube.com/watch?t=36&v=Cd6uCXWm9mg
Info:
7 Ik, O Vayeb, 11 Ik
Dratzo! De wereld begint in twee delen uiteen te vallen! De duistere cabal is zowel furieus als onsuccesvol aan het werken om haar millennia lange voordelen te handhaven. Deze tradities hebben het zwaar onder de brede wettige aanval van de Lichtkrachten. Er worden eveneens beperkingen opgedrongen aan de frauduleuze wereldwijde bankiersnetwerken van het duister. Bijna wekelijks probeert het duister een situatie te creëren die uiteindelijk kan leiden tot oorlog. Deze strategieën falen eveneens. In feite is nu een patroon van geleidelijke ineenstorting de norm voor deze cabal en haar vele handlangers. Intussen bespreken onze aardse bondgenoten gezamenlijk hoe deze vroegere groep van mondiale machtsfiguren het best af te serveren. Een nieuw monetair systeem wacht haar tijd af voor haar formele aankondiging. Deze proclamatie wacht tevens op de laatste uiteindelijke zet, die snel een fait accompli zal worden voor het Licht. Wat momenteel ontbreekt is de toevoeging van het gouvernementele deel van deze groeiende grootse alliantie. In vele belangrijke regeringen arrangeren degenen die de leiding hebben de noodzakelijke herinrichting van bestuur dat de rechten van hun volk zal herstellen en een serie belangrijke arrestaties zal laten plaatsvinden.
De basis wordt gevormd voor een ware stille revolutie, die jullie wereld in staat zal stellen terug te keren naar een staat van vrede en niet eerder geziene samenwerking. Het duister siddert dagelijks vanwege de mate van vooruitgang die onze aardse bondgenoten gestaag boeken. Dit verhaal is nog steeds bijna niet voor jullie waarneembaar aangezien het omgeven is door een enorme wolk van duistere desinformatie. Het idee is de massa te verwarren door zich te handhaven d.m.v. leugens dat er niets werkelijk veranderd is. We wensen heel graag ons boven deze set 'rook en spiegels' te verheffen. We vragen onze aardse bondgenoten herhaaldelijk tenminste gedeeltelijk te onthullen wat er echt gebeurt. Hun antwoord is dat deze enorme desinformatie hen helpt de cabal te laten geloven dat hun vreemde strategie op een of andere manier werkt. Het stelt ze eveneens in staat om voort te gaan op hun unieke heimelijke manier en op het juiste moment een nieuwe realiteit op het leiderschap van de duistere cabal los te laten. Wij daarentegen menen dat een meer directe aanpak evengoed kan werken, aangezien het jullie enigszins 'op de hoogte' kan houden. De aardse Lichtkrachten blijven onvermurwbaar dat het in principe een zichzelf een nederlaag toebrengende strategie is vanwege de manier waarop de cabal opereert.
Terwijl deze strategieën voortgaan kunnen we zien hoe het Licht het duister uit de macht wil stoten. Voor de duistere cabal is rijkdom en macht alles. Voor hen is hun vermogen om immuun te zijn voor de wetten die alle anderen besturen een teken van hoe belangrijk zij lijken te zijn. Het Licht is langzaam bezig het duister te omsingelen met alternatieven die beloven overweldigend voor hen te zijn. Dit proces dat ze gezamenlijk aanhouden is hoe deze ooit machtige vijand overwonnen kan worden. Het duister op haar beurt gaat door met vasthouden aan strategieën die op dit moment meestal niet werken. Dat is omdat de Annunaki niet meer in beeld zijn. In feite adviseren deze vroegere bovenbazen de aardse bondgenoten over de manier waarop hun vroegere wachters het best verslagen kunnen worden. Daarom wordt verwacht dat op een moment in de komende maanden deze strategie van het Licht het verwachte resultaat zal opleveren. De ondergang van de duistere cabal is in werkelijkheid slechts het begin. Onze landing zal plaatsvinden zodra nieuw bestuur en een nieuw financieel systeem volledig op hun plaats zijn. Daarvoor zullen een aantal gebeurtenissen plaatsvinden. Deze zullen de basis vormen voor jullie ontmoeting met je mentoren.
Al deze verbazingwekkende gebeurtenissen waren onderdeel van een voorgeschiedenis die in gang was gezet door de Anunnaki. De Anunnaki waren met de Hemel overeengekomen geen verdere aanpassingen te maken bij wat de Atlantiers jullie hadden aangedaan. Toch wensten de Anunnaki heel graag om jullie op de juiste tijd te veranderen in dom gemaakte menselijke robots. Deze robots zouden hun slaven moeten worden en de Anunnaki in staat stellen zich in de binnenste cirkel van het kwaadaardige Anchara continuüm te begeven. Dit plan betekende dat het duister eerst jullie voorouders volledig gedwee moesten maken m.b.t. elk bevel van hen. De drie gouden tijdperken waren het resultaat. Dit proces moest falen en na de grote zondvloed werden jullie over deze wereldbol verspreid. De duistere bovenbazen wisten dat de Hemel binnen korte tijd dit rijk opnieuw zou bezoeken en dat jullie bevrijd zouden worden uit de gevangenschap die jullie door de bovenbazen en hun handlangers werd opgelegd. Ons vroegere toezicht op dit zonnestelsel en in het bijzonder Gaia, herzagen dit proces voortdurend. Tijdens deze bezoeken troffen we de Anunnaki en herhaalden we de talloze Hemelse decreten die ons lang geleden geciteerd werden. Deze spraken van jullie bevrijding en terugkeer naar volledig bewustzijn.
Gezegend! We zijn jullie Opgestegen Meesters! Deze wereld wordt voorbereid op een uiterst gezegende gebeurtenis! Lang geleden stond de Hemel een duistere opperheer toe om over dit land te heersen mits hij een aantal speciale regels nauwkeurig zou opvolgen. Indien de Anunnaki buitengewoon geprofiteerd hebben van deze overeenkomsten, zou een hachelijke situatie uit de weg geruimd worden gelijk enorme hoeveelheden vies water. De Anunnaki volgden deze goddelijke edicten en waren in staat de mensheid bijna 13 millennia lang te domineren. Het verdrag van Anchara maakte een einde aan deze overheersing en bracht vrede naar dit sterrenstelsel. Wij zijn degenen die deze schooiers nauwlettend in het oog hielden en rapporteerden trouw iedere kleine schending die door hen gepleegd werd. Nu verkeren we in een uiterst gezegende tijd, die het een ieder van jullie mogelijk zal maken eindelijk een realiteit te bereiken die gevuld zal zijn met vrede, vrijheid en welvaart. Het zal een tijd zijn waarin we vrijelijk tussen jullie kunnen lopen. Zelfs nu is het veel makkelijker dan eerder om jullie te helpen!
De toenemende energie van bewustzijn vormt een realiteit waarin jullie geconcentreerde aandacht werkelijk wonderen kan verrichten. Iedere werkelijkheid heeft energie die normaliter nogal zwak is. Gebruik jullie uitgebreide mogelijkheid om je te concentreren als een gereedschap om doelen te verwezenlijken. De toegenomen hoeveelheid spirituele kracht kan jullie in korte tijd succes opleveren. Laat, om dit te kunnen, alle negativiteit en frustratie los. Houd altijd in gedachten dat iedere dergelijke oefening niet alleen focus vraagt maar eveneens een groot aandeel innerlijke geprojecteerde positiviteit. Laat dit voordeel binnenin je ontstaan door een kalme en helpende energie te genereren. Dit zal de basis zijn van wat je van plan bent te doen. Wanneer je je eenmaal positief en geestelijk sterk voelt, begin dan iedere dag een moment te reserveren om deze energie te beschermen. Aangezien de details van je positieve projecties toenemen, kun je beginnen te zien hoe deze visualisaties het je mogelijk maken om je realiteit te veranderen. Dan zul je in een mum van tijd succes hebben
Jullie, Geliefden, leven in een tijdperk dat op een pregnant overgangspunt staat van rampspoed naar het Licht. Talloze gebeurtenissen komen tot vervulling. Deze gebeurtenissen zullen snel jullie manier van kijken naar deze nog steeds begrensde realiteit veranderen. Het gewijde doel is dat we ons gezamenlijk steeds verder uitbreiden en jullie daardoor in staat stellen te slagen. Haal hier je voordeel uit en gebruik je eigen positieve energieën om deze verandering te versnellen. Word je zelfs nog meer bewust van de opwindende mogelijkheden en doe mee door je eigen versie van de visualisaties aan te wenden om zo dit rijk naar een nieuw tijdperk van Liefde en Licht te bewegen. Samen bezitten we de mogelijkheid om de acties, die onze aardse krachten van het Licht ondernemen om jullie te voorzien van vrijheid, vrede en welvaart die jullie zo rechtvaardig verdienen, te versterken. We zijn voornemens om jullie dagelijks van de middelen te voorzien om jullie te helpen bij deze uiterst gezegende serie gebeurtenissen. Gezamenlijk, Geliefden, kunnen we triomferen!
Vandaag gingen we door jullie te berichten over wat er nu gaande is! Overal op deze gewijde bol, zijn individuen samen gekomen om de macht van het duister te verwijderen en haar aan de kant te zetten. Er is nog veel werk te verzetten. Desalniettemin is de tijd van vrijheid en overwinning heel, heel dichtbij! Weet, geliefden, dat de eindeloze overvloed en de nooit eindigende rijkdom van de Hemel inderdaad voor jullie is! Zo zij het! Selamat Gajun! Selamat Ja! (Siriaans voor Wees Eén! En Wees Blij!)
Website: Planetary Activation Organization
Vertaling: Rob/Marja