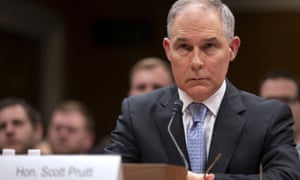 Records reveal controversy-prone Pruitt networked and arranged friendly media interviews on personal account

Sat 8 Dec 2018 11.00 GMT
Last modified on Sat 8 Dec 2018 21.14 GMT

Source: The Guardian | Emily Holden in Washington



Former EPA chief Scott Pruitt left the Trump administration after controversy over his spending, travel and ties with industry. Photograph: Al Drago/Reuters

Donald Trump's first Environmental Protection Agency (EPA) administrator repeatedly violated agency policy to use personal email for government business, according to newly released public records.

Scott Pruitt – who left the administration this summer after months of controversy over his spending, travel and ties with industry – used his private email account for work over a period of months, according to records recently made available to the Sierra Club.

Someone forwarded the emails to Pruitt's government account on the day he resigned. EPA policy requires employees to do so within 20 days of any correspondence via personal accounts.

Using personal rather than government email shields messages from public records requests and can put sensitive information at risk. Trump repeatedly criticized Hillary Clinton during the 2016 presidential campaign for using a private email account and server while she was secretary of state.

Others in the administration, including the president's daughter, Ivanka Trump, have used personal email accounts for work.

Elena Saxonhouse, a senior attorney for the Sierra Club, said Pruitt's email use "treads into unlawfulness if he was using personal email to evade the Federal Records Act or [Freedom of Information Act]".

She added: "The fact that his personal emails weren't provided to us until after he left could mean that he was actively trying to hide something or that he was just as cavalier about records policy as he was about all the other rules on government accountability and ethics. Both are bad."

In response to a previous request, the EPA had officially released just one message Pruitt wrote to anyone outside the agency during his first 10 months in office. His emails offer a new look at his close relationships with influential conservatives.

It appears that in March 2017, soon after Pruitt arrived at the EPA, he received an email from conservative television personality Hugh Hewitt offering to go easy if he did an interview with NBC.

"It won't be softballs but I won't throw at your head either," wrote the emailer, recorded as "Hugh".

Later that week, Pruitt was on CNBC's Squawk Box, where he said falsely science has not proven that carbon dioxide pollution is causing climate change and host Joe Kernen appeared to agree with him.

It is unclear if Hewitt arranged that interview, but he did have Pruitt on his radio show for a friendly discussion a few weeks later.

Attempts to contact Hewitt and the EPA for comment were not successful.

MSNBC later ended Hewitt's show, following reports that he set up meetings with Pruitt for contacts in Orange county, California, while he was offering commentary defending him. Editors at the Washington Post, which still accepts pieces from Hewitt, also reprimanded him.

Pruitt also got special treatment from Fox News channel's Fox & Friends.

The newly released emails from Pruitt's personal account show event invitations and hiring recommendations from top Republicans, including the Michigan attorney general, Bill Schuette, the former Louisiana governor, Bobby Jindal, and the Federalist Society executive vice-president, Leonard Leo, who accompanied Pruitt on a government trip to Italy.

Matt Rhoades, Mitt Romney's presidential campaign manager and founder of Definers Public Affairs – the firm that went on attack on behalf of Facebook – sent along a résumé via Jessica Garrison, the former director of the Republican Attorneys General Association, which Pruitt chaired.

Pruitt also received a résumé from Mike Ingram, an Arizona real estate developer and Republican donor who was part of a meeting about moving an EPA regional office from San Francisco to Phoenix.

In another exchange, Victor Schwartz, a lawyer who also works with the conservative American Legislative Exchange Council, offered Pruitt advice on how not to alienate the bureaucracy, including not keeping a photograph of Trump in his office, meeting senior career staffers, working out of a room closer to those staffers and bringing them to the White House for important meetings.

Pruitt never took that advice, according to months of national reporting that showed him distancing himself from his staff and surrounding himself with security.